When I say Italy, what do you think of?
Probably something along those lines, right? Well…I mean, if you're anything like me…
Today's Lesson
The above aren't false representations of Italy and Italian culture necessarily. I use them as a way to highlight my point for this week's Food & Culture post.
Today's lesson is about the importance of remembering that there is much more to a culture than what's been fed to us in the mainstream. We're going on the tourist-y ridden trips that tripadvisor and other travel sites tell us to go, but have you ever thought about making up your own adventure? I mean, those were always my favorite kind of books growing up. Now, you can do it for real! There are some perks to being an adult, and traveling is one of them.
That's not to say you only thought of the pictures I posted in response to my question. Au contraire.
Maybe you're more cultured than me and have actually been to Italy (or elsewhere)? I'd love to see pictures and hear your traveling tales in the comments!
Storytime
One of my favorite memories is when I was working on an independent movie set as an Assistant Director in France in 2011. It was the experience of a lifetime; I met some of my best friends on that trip. 
We traveled to a little suburb outside this charming little town called Montmoreau-Saint-Cybard, where we would also be filming.
We were on set at the AMAZING maison where we were also staying for two weeks; my friends and I swear the attic is haunted.
We were about midway through the two week shoot on this particular day. The cast and crew were cranky, tired, not getting along; we had been working long hours and on a tight schedule. During a particularly rough argument between the director and a producer, I left the house to go for a walk.
I'm really glad I did. One of my favorite experiences came out of that decision.
When I set off down the road, I heard clicking behind me. I turned around and the maison owner's dog was following me.
I stopped to let him catch up with me, a welcome addition. Animals always have a way of making you feel better, don't they?
Now I had a furry companion (my favorite kind). I felt like an explorer.
Paying attention to which direction I was going in, we set off down a road which eventually led to an abandoned town; it at least seemed abandoned, I never saw anyone, but there were sometimes signs of life (like a car).  But, it was very quiet. If anyone was living there, they could've fooled me!
Me and the dog walked through the ghost town. It was pretty eerie, but oddly fascinating. I was literally walking through history it seemed. Even if it wasn't abandoned, it sure seemed like it; so, I couldn't help but to ask myself questions as if it were: What had life been like in this little town? Who were the people that lived here? What did they like about living here? Were people farmers or were they traders? These questions entertained me as we continued to walk along.
Finally, the road ended on this scene:
Now, it's like seeing a picture of the Grand Canyon- it's obviously better if you'd been there. That field of yellow flowers was so vibrant and stretched forEVER- farther than my little iPhone camera lens could take. There were so many colors in the hills and the trees and the fields, also sadly beyond the scope of my phone. Stupid to have just had my phone- we had a mansion full of camera equipment. But hey, I thought I was just going for a walk.
Nevertheless, it was a beautiful scene to behold after such a meaningless endeavor.
Next thing I know, I started crying. I couldn't help it. I sat on that hill and bawled like a baby.
I'll never forget the stupid adorable dog. He came over to sit next to me and let me hug him while I did…whatever it was I was doing. Good dog.
Anywayyss…
I was confused at the reaction and still to this day am not sure why I reacted in such a way- never again has scenery affected me like that. Guess I am a true Romantic at heart after all.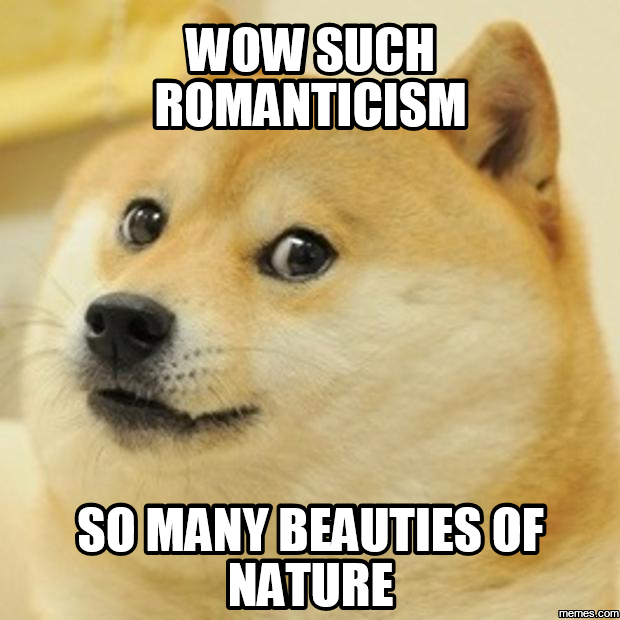 My point is, explore the unexpected whims that come your way- especially when traveling. "Take the road less traveled by" or whatever. I don't know what led me in that direction- why I didn't just decide to wait out the tension in the backyard or something- but it led to an experience that was quite profound for me.
Wandering has always been attractive to me. I was an adventurous child, always exploring. This experience only made that attraction stronger. I can't recommend it enough!
*Please note this is not me advocating to get lost somewhere; you should always be aware of your surroundings. I'm more saying… explore responsibly. But definitely explore what the world has to offer!
Some Other Ideas to Consider
When thinking about visiting a country or just wanting to learn more about it, consider skipping asking the normal questions: where to stay, proper etiquette, popular sites and activities, etc. Instead think about where you can really learn about the place you're visiting.
Think about asking questions like:
Where is an lesser- known vacation spot?
In any vacation hub, consider visiting the hotspots briefly- I'm not saying don't see the Colosseum if you're in Rome- but, I fondly suggest spending more of your time in the smaller towns. Montmoreau was adorable, so picturesque, and the people were very friendly to us. I wouldn't have minded staying there forever.
When traveling, get in there and live the life of the locals if you want a real adventure.
Read this article to learn about other unique vacation spots in Italy; visit this page to see spots around the world!
What unique cuisine does the place offer? 
In Italy, yes they eat pizza and pasta, BUT there is so much else to their decadent cuisine (like Osso Bucco, Risotto, Scaloppine di Vitello to name a few). This Huffington Post article breaks down Italian cuisine by region including a side-by-side comparison between the northern and southern regions. For example, the article states that:
"Both north and south love their pasta and each region has their favorite, although you'll find a southern meal isn't complete without a pasta course, whilst the north prefers to regularly mix it up with gnocchi, risotto and polenta dishes."
Give it a read, I found it quite interesting.
All in All…
I urge you to always have a broad and open mind- don't just go somewhere a site tells you. Bring this asset to all aspects of your life- including when you travel!
Always remember that life is multi-dimensional, complex, and should be explored from all angles. I can only share my experiences and knowledge in the hopes that they help someone in the future. If this happens, I will have fulfilled what I set out to do with this blog community.
I hope you all have an amazing week! New (Keto) recipe post next week!  Here's the last recipe post in case you missed it.
That's all for me this week. As always…
I'll see you at the dinner table.
Please follow, share, and like!